Eugene A. Montgomery
American, 1905 - 2001
---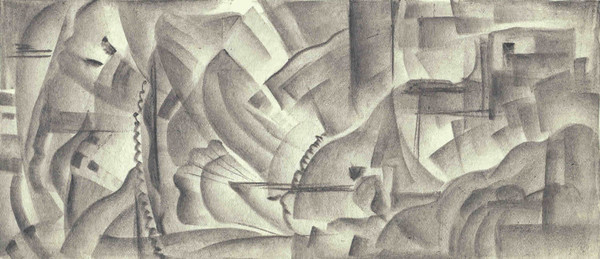 Mural Study, ca. 1930s
Graphite on paper
3 1/4 x 7 inches (framed 15 x 18 inches)
Provenance: Estate of the artist.
#3313
Eugene Montgomery was born in Port Arthur, Texas in 1905 and came to Chicago in the 1920s to study at the Art Institute. Montgomery became a nationally recognized mural and portrait painter active during the 1930s, '40s and '50s. Between 1939-1954, Montgomery painted twelve large-scale murals for the Sear's Roebuck Company that decorated many of their department stores across the country, including Illinois. Each mural depicted the history of the particular town or city for which it was commissioned. In the 1950s, Montgomery completed a major mural for the Allstate Insurance Company titled "The History for the Automobile". The artist was also a successful portrait painter and was frequently commissioned to paint the portraits of Chicago business leaders, including the chief executives of Sears Roebuck and Motorola, among others.
Montgomery exhibited at the Art Institute of Chicago and his work hangs in the permanent collections of Notre Dame University, South Bend, IN and the Wolfsonian Museum, Miami, FL. His murals for the Sears Roebuck department store in Joliet, IL are in the collection of the Joliet Historical Society Museum, Joliet, IL. He died in Aurora, Illinois in 2001 at the age of 94.
14-119 Merchandise Mart Plaza
Chicago, Illinois 60654
(312) 644-8855
info@richardnortongallery.com

Gallery Hours
Monday through Friday
9 am to 5 pm
©2023 Richard Norton Gallery LLC