Georges Maurice Cloud
French, 1909 - 1973
---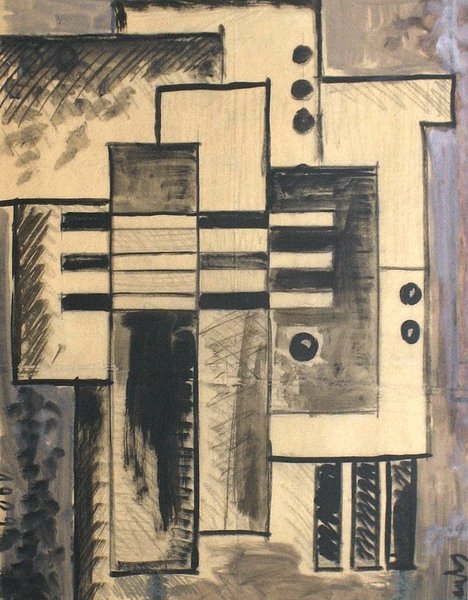 Design for a Tapestry, 1929
Watercolor, ink, graphite and collage on paper
22 3/4 x 20 1/2 inches (framed 31 x 25 inches)
Signed with initials GMC, lower right; dated lower left.
#5084
Artwork may be presented in either a vertical or horizontal format.
Georges Maurice Cloud was born in Brittany, France in 1909. He began his studies in fine art and design in Escoublac and La Baule. In the 1930s, Cloud attended the Beaux-Arts Academy in Paris, where he was awarded a First Prize for his artwork in 1937. Cloud became a member of the Groupe de Puteaux, whose members included Fernand Léger and Albert Gleizes, among others. He worked professionally as an architect and became a successful designer of interiors and furniture in both Paris and Brittany. He worked as a draftsman for the noted Atelier d'Architecture de Pierre et Charles-Édouard Jeanneret. Charles-Édouard Jeanneret, is best known under his pseudonym, Le Corbusier. Cloud even worked on Le Corbusier's most famous project, "Savoye House". Cloud also worked independently as a fine artist, and throughout his career completed numerous mural and advertising commissions. He painted frescoes and designed furniture for numerous transatlantic ocean liners, such as the famed Ile de France and the Normandie. He exhibited at the Salon des Sur-Independants and at other venues throughout France. The artist died in France in 1973.
14-119 Merchandise Mart Plaza
Chicago, Illinois 60654
(312) 644-8855
info@richardnortongallery.com

Gallery Hours
Monday through Friday
9 am to 5 pm
©2023 Richard Norton Gallery LLC