Lois Field
American, b. 1923
---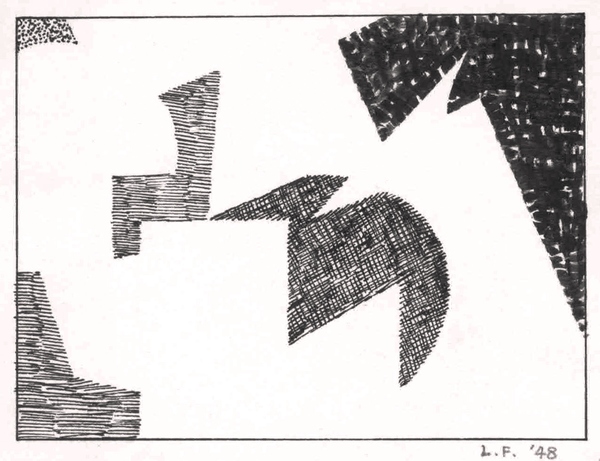 Abstraction (No. 6) , 1948
Ink on paper
3 x 4 inches (framed 9 x 11 inches)
Signed with initials and dated L.F. '48 lower right; signed and dated on reverse.
#3342
In 1923, Lois Field was born as Lois Hossfield in Berwyn, MD and grew up in Patterson, NJ. Field was dissatisfied after studying at the Newark School of Fine and Industrial Arts and at the Art Student's League in New York City and heard from a friend who was serving in the U.S. Army about a man in his outfit that was now teaching at the Institute of Design in Chicago, artist Myron Kozman. The friend told Field it 'sounds like the kind of school you're looking for.' Field not only became a graduate of the class of '52 from the Institute of Design (ID), but married Myron Kozman. The couple was married for 54 years.
As a teen, Field earned money posing for sculptor Gaetano Federici. Federici encouraged her to pursue an art career. Field credited her years at the ID with making her an inspiring teacher. "My four years at the Institute of Design, led me to a career in teaching because I had discovered a new approach to art, to education, to thinking, to life, that was so exciting I wanted to pass it on. I passed it on to students in Chicago; Milwaukee; Webster Groves, Missouri..."
Field was known for her work in both painting and photography.
In 2010, at the age of 86, Field died in St. Louis, MO.
Source: Art Institute of Chicago interview with Lois Field and Myron Kozman, "Artists Oral History Archive", 1997.
14-119 Merchandise Mart Plaza
Chicago, Illinois 60654
(312) 644-8855
info@richardnortongallery.com

Gallery Hours
Monday through Friday
9 am to 5 pm
©2023 Richard Norton Gallery LLC