Manierre Dawson
American, 1887 - 1969
---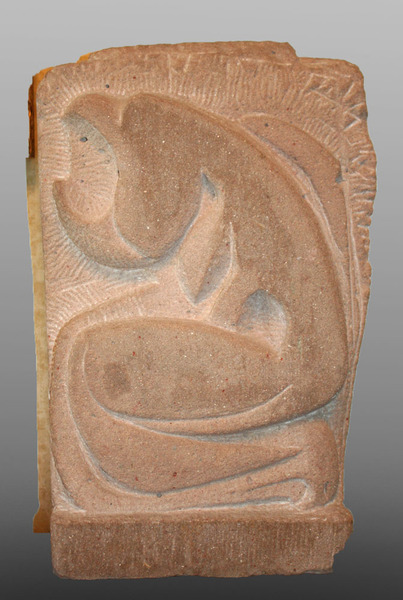 Eboin, 1932
Artificial sandstone
14 1/4 x 9 1/2 x 4 1/2 inches
Catalogue raisonné: #1932.01
#2929
Manierre Dawson was one of the earliest American artists to explore non-objective painting. An engineer by training, Dawson's foray into non-objective art happened concurrently and without his knowledge of Wassily Kandinsky's contributions to Modernism. After graduating from the Armour Institute with a degree in Civil Engineering in 1909, Dawson went to work for the esteemed architecture firm Holabird and Roche as a draftsman. During this period Dawson's engineering background provided the inspiration for many of his ground-breaking abstractions. Specifically, he was interested in the relationships of forms in space. In addition, he wrote that his work meant to "express spiritual truth through pure form." His works from between 1909 and 1914 are thought to be among the earliest examples of abstraction made by a Chicago-based artist - let alone by any American artist.
Dawson first encountered the avant-garde in Paris during his trip there in 1910. Through his acquaintance with American ex-patriot author and collector Gertrude Stein, whose home functioned as a salon for a who-was-who of leading artists and intellectuals, Dawson was exposed to Fauvism and Cubism. Stein provided Dawson with his first sale and sought to encourage his talent.
After his return to the United States, Dawson continued to paint and was selected to exhibit work at the 1913 Armory Show during its stay at the Art Institute of Chicago. Discouraged by a subsequent lack of support for Modernism in Chicago and the extreme difficulty he found in making a living through sales of his work, however, Dawson moved his family to Ludington, Michigan, where he became a fruit farmer.
Paintings by Manierre Dawson have been exhibited at institutions including: The Art Institute of Chicago, Chicago, IL; The Museum of Contemporary Art, Chicago, IL; The Illinois State Museum, Springfield, IL; Jack S Blanton Museum of Art, University of Texas, Austin, TX; Milwaukee Museum of Art, Milwaukee, WI; Muskegon Museum of Art, Muskegon, MI; Norton Museum of Art, West Palm Beach, FL; Smithsonian American Art Museum, Washington, DC; The Columbus Museum of Art, Columbus, OH; The Dayton Art Institute, Dayton, OH; The John & Mable Ringling Museum of Art, Sarasota, FL and the Whitney Museum of American Art, New York City, NY, among others.
Sources include:
Elizabeth Kennedy, editor, Chicago Modern 1893-1945 Pursuit of the New, p. 106
Randy J. Ploog, Manierre Dawson: American Pioneeer of Abstract Art, pp. 62-64 (Hollis Taggart Galleries)
Peter Falk, Who Was Who in American Art, p. 850
14-119 Merchandise Mart Plaza
Chicago, Illinois 60654
(312) 644-8855
info@richardnortongallery.com

Gallery Hours
Monday through Friday
9 am to 5 pm
©2023 Richard Norton Gallery LLC