Oliver Dennett Grover
American, 1861 - 1927
---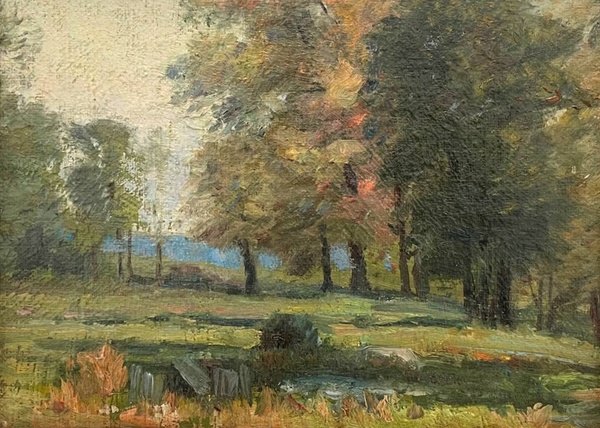 Untitled (Summer Landscape), ca. 1910
Oil on canvas board, in original frame
8 x 11 inches (framed 11 1/2 x 14 1/2 inches)
#9186
Oliver Dennett Grover was born in Earlville, IL in 1861 to prominent lawyer and abolitionist Alonzo Jackson Grover. Grover's family moved to Chicago and he spent his childhood and youth taking classes at the Chicago Academy of Design. He studied law at the University of Chicago and from 1879-1880 enrolled at Munich's Royal Academy, where he traded his law studies for art. It was here that he studied with Frank Duvaneck and became one of the "Duvaneck Boys". The "Duvaneck Boys" were a group of artists studying with Duvaneck that included John Henry Twachtman, Otto Bacher, Julius Rolshoven, and Herman Wessel. In 1880, Grover exhibited at Munich's International Exposition. Grover continued his studies with Duvaneck and followed him to Venice and Florence. He also studied in Paris at the Academie Julian from 1882-1885 with Gustave Boulanger, Jean-Paul Laurens and Jules Joseph Lefebvre.
Grover retuned to Chicago in 1885 where he opened his own studio and founded the Western Art Association. He was also a founding member of the Eagle's Nest Colony of artists in Oregon, IL. From 1887-1892 he taught at the Art Institute of Chicago. He contributed both murals for the Merchant Tailor's Building and participated in the art exhibition at the World's Columbian Exhibition in 1893. He exhibited at the Art Institute of Chicago 111 times between 1888-1939, winning numerous prizes. In 1920, he had a one-man exhibition at the Art Institute of Chicago and a memorial exhibition in 1927-28. He also exhibited at the Pennsylvania Academy of Fine Arts, Philadelphia, PA, the Corcoran Museum of Art, Washington, DC, the Pan-Pacific Exposition in San Francisco, CA, the Carnegie Institute, Pittsburgh, PA, the Salmagundi Club, New York, NY and the National Academy of Design, New York, NY, among others.
His work can be found in the Art Institute of Chicago, the Eagle's Nest Colony art collection, the Union League Club of Chicago and the Sheldon Swope Museum of Art, Terre Haute, IN, among others. He died in Chicago, IL in 1927.
14-119 Merchandise Mart Plaza
Chicago, Illinois 60654
(312) 644-8855
info@richardnortongallery.com

Gallery Hours
Monday through Friday
9 am to 5 pm
©2023 Richard Norton Gallery LLC