Richard Koppe
American, 1916 - 1973
---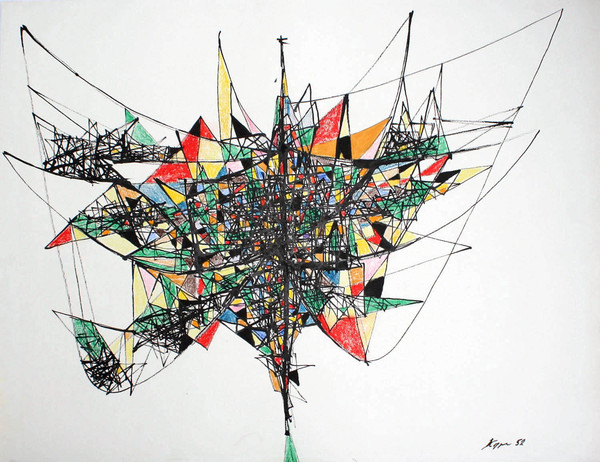 Winged Irony (Drawing #214 ), 1952
Wax crayon and ink on paper
19 1/2 x 25 1/2 inches (framed 26 x 32 inches)
Signed and dated Koppe 52, lower right; titled and numbered 214 on reverse.
#4473
Exhibited:
"Richard Koppe", The Elmhurst Art Museum (in cooperation with University of Illinois, Chicago), Elmhurst, IL, September 7, 2014 - January 11, 2015.
Born in St. Paul, Minnesota, Richard Koppe studied at the St. Paul School of Art with artists Cameron Booth, LeRoy Turner and Nicolai Cikovsky. In 1937, Koppe moved to Chicago and continued his studies at the Institute of Design (ID) with the noted Bauhaus masters Laszlo Moholy-Nagy, Gyorgy Kepes and Alexander Archipenko. He became an instructor at the Institute of Design in 1946 and remained an Associate Professor at the ID until 1963.
At the ID, Richard Koppe's work in painting, sculpture and drawing is unified by a synthesis of surrealism and abstraction. He skillfully employed a precise use of line that both defines and deconstructs his abstract compositions. Even today, his work from the 1940s and 1950s is timely, while firmly embracing the aesthetic sensibilities of the mid-Twentieth Century.
Koppe exhibited widely during his lifetime. He gained international acclaim for his work shown at the prestigious annual museum exhibitions of the Whitney Museum of American Art, the National Academy in New York, the Art Institute of Chicago, the Carnegie Institute in Pittsburgh, the Pennsylvania Academy in Philadelphia, the Royal Academy of Art in London, the Stedelijk Museum in Amsterdam and the Museum of Modern Art in New York, among others. Today his work is held in the collections of the Whitney Museum of American Art in New York, the Art Institute of Chicago, the Illinois State Museum, and the Brooklyn Museum in New York.
14-119 Merchandise Mart Plaza
Chicago, Illinois 60654
(312) 644-8855
info@richardnortongallery.com

Gallery Hours
Monday through Friday
9 am to 5 pm
©2023 Richard Norton Gallery LLC